<![if !vml]>
<![endif]>
<![if !vml]>
<![endif]>
Therapeutic Horseback Riding Programs FOR CHILDREN
at FLEET EQUESTRIAN CENTER, LLC


RETURN TO HOME PAGE SPECIAL NEEDS THERAPEUTIC PROGRAM RECREATIONAL THERAPEUTIC PROGRAM COST TO PARTICIPANTS GOLF



PLEASE CONSIDER VOLUNTEERING!!!!
Its a great cause.


Now taking applicants for the

SPECIAL NEEDS THERAPEUTIC PROGRAM Fall of 2013 school classes.

EMAIL ME WITH YOUR INTEREST.

IF WISHES WERE HORSES, INC is a registered 501 (c) (3) non-profit organization.

WE NEED VOLUNTEERS!!!!!

Please consider volunteering your time so we can add more programs for the kids!

I saw a child who couldn't walk
sit on a horse, laugh and talk.
Then ride it through a field of daisies
and yet he could not walk unaided.
I saw a child, no legs below,
sit on a horse and make it go
through woods of green
and places he had never been
to sit and stare,
except from a chair.

I saw a child who could only crawl
mount a horse and sit up tall.
put it through degrees of paces
and laugh at the wonder in our faces.
I saw a child born into strife,
Take up and hold the reins of life
and that same child was heard to say,
Thank God for showing me the way…

John Anthony Davis

RECENT "HORSE AIDED" MIRACLES.

A rider's first time on the horse. They are Autistic and haven't spoken in two months, child starts talking while riding the horse.

One of the most amazing things I have witnessed: A rider in their 20's has had a stroke, 3 years ago doctors told the family they would never walk, talk or function but could be rotated regularly to prevent bed sores; that was the extent of their quality of life. Now, three years after the stroke with the help of learning to ride a horse, through simply riding once weekly, this rider is slowly regaining their life back and is able to walk, talk and participate in life.

Summer - one of our Exceptional Equestrians

"There's something about the outside of a horse that does something to the inside of a man." Winston Churchill
Our Mission

To provide a positive learning environment, where growth and improvement in social, emotional, physical and mental health can be facilitated with the use of horses:

To bridge over into other areas of the children's lives, such as improvement in school and other meaningful activities and therapies.

To foster respectful relationships with animals, peers, and volunteers.

To improve physical and mental function, through a variety of exercises on horseback.

Grant - one of our Exceptional Equestrians

WHY THERAPEUTIC RIDING ?

In the past, the medical community as well as the general public underestimated the effectiveness of riding therapy. However, research and evidence mounted, proving its benefits could no longer be ignored. Medical doctors and therapists alike have discovered that riding therapy can produce results that cannot be achieved by the means of traditional therapy.

Riding therapy has also found to be effective with mentally challenged, as well as emotionally disturbed and behavior challenged individuals. The development of a relationship with the horse who offers unconditional love and who is non-judgmental creates a bond. This allows the student to relate his human/horse relationship to those around him, often forming a bond and improving communication skills, socialization, personal development and self-esteem.
WHAT NARHA HAS TO SAY ABOUT THERAPEUTIC RIDING
The benefits of horseback riding are as numerous as are the types of disabilities and conditions served. Research shows that students who participate in therapeutic riding can experience physical, emotional and mental rewards. Because horseback riding gently and rhythmically moves the rider's body in a manner similar to a human gait, riders with physical disabilities often show improvement in flexibility, balance and muscle strength.
For individuals with mental or emotional disabilities, the unique relationship formed with the horse can lead to increased confidence, patience and self-esteem. The sense of independence found on horseback benefits all who ride. The therapeutic qualities of horseback riding are recognized by many medical professionals, including the American Physical Therapy Association and the American Occupational Therapy Association.
Excerpts from NARHA - North American Riders Handicap Association website
To learn more about NARHA visit their website http://www.narha.org

WHAT KIND OF DISABILITIES AND CONDITIONS ARE HELPED BY THERAPEUTIC RIDING?
Therapeutic riding offers an alternative and unique form of therapy for a wide number of individuals with special needs.
Below are some of the conditions and special needs that benefit from therapeutic riding.

Therapeutic Horseback riding helps with more issues than you think. The major categories are listed below.


Mental, Developmental, Cognitive, Neurological, Physical, and Emotional Disabilities.

ADA definition of a disability: Any physiological disorder or condition, cosmetic disfigurement, or anatomical loss affecting one or more of the following body systems: neurological, musculoskeletal, special sense organs, respiratory (including speech organs), cardiovascular, reproductive, digestive, genitourinary, hemic and lymphatic, skin, and endocrine.

THERE ARE TWO PROGRAMS FOR
CHILDREN WITH DISABILITIES
HERE AT THE FARM.

1. RECREATIONAL THERAPEUTIC RIDING LESSONS
Disabilities that usually qualify a child to participate in regular group lessons

There are MANY Recognized Disabilities that I work with on a weekly basis.
These kids participate in the able-body/minded group lessons.
Children must be evaluated for acceptance in terms of suitability of placement and safety.
These students do not require volunteers to participate in the program.
We reserve the right to refuse service to any rider for any reason.

See more information about this program here
RECREATIONAL THERAPEUTIC RIDING PROGRAM

2. SPECIAL NEEDS THERAPEUTIC RIDING PROGRAM
Disabilities that usually signal that a child needs to be in a one-on-one or small group setting.

Some disabilities need small group or one-on-one instruction.
Availability for those lesson is limited to: 1. the number of volunteers available to
help with each child - 1-3 volunteers needed per child, 2. age of the child and their individual needs. Therefore, scheduling can limit the ability to take on new students at any given time.
We reserve the right to refuse service to any rider for any reason.

See more information about this program here
SPECIAL NEEDS THERAPEUTIC RIDING
Disability does not discriminate! An average of 1 in 5 Americans has a disability of some sort. An estimated 24 million people - half of all individuals with disabilities – have a severe disability. Here at Fleet Equestrian Center, our Therapeutic Riding program "IF WISHES WERE HORSES" strives to reach those in need. This is a child based program the age of acceptance varies according to each riders conditions and needs.

WHAT DOES IT COST TO RUN A THERAPEUTIC EQUINE PROGRAM?
This information is meant to demonstrate the cost of keeping horses, this is not information on leasing horses out to any participants.
Horse Care - Monthly - $1675 per month -depending on the horse- includes -Horse and Stall Rental/Board
- daily care: hay, feed, bedding, health supplements
- preventative care: worming, inoculations, dental care, joint injections, chiropractic
- farrier care




SPONSORSHIPS AVAILABLE
For fall 2012: offering 5 scholarships (visits) to School or Support programs working directly with Schools in the Tri-County area. . Email me with your interest.
Scholarships were awarded to: Chester Middle School for 2 visits and The Children's School at Silvia Circle and Mt. Holly Elementary Schools for 3 visits. Arranged for the summer is a visit by Camp Chuggers of Lancaster, SC - serving Autistic Children.

REGULAR COSTS TO RIDERS
Help keep the cost of riding low to our riders. Become a sponsor and change a child's life forever. Although we charge a fee for services, this only covers a portion of our actual costs of therapeutic riding. Our program is funded by donations from individuals, events- such as fundraisers, horse shows, dinners, grants, corporate gifts, and other generous contributions.
The actual cost per rider per session is $40- $80, we only ask that families pay $25 of that before any scholarships, School groups and support groups pay $10 per rider.

Sponsor a rider - $25.00 per child per week/$100.00 per month will sponsor a child's lessons (Weekly Special Needs Program)
$900.00 a year- school year long scholarship (Sept - May) (Sponsor monthly, yearly, or any amount)

Sponsor a Class - school program/ group organizations- Currently $10 minimum donation per rider, per time.


Sponsor a horse - $100 a month - Depends on the horse (any amount - all or part) Choose from horses below.


OUR THERAPY HORSES





Horse medical emergency fund - ANY AMOUNT - this is a very important category, without the horses we can't provide therapeutic riding.


Indoor arena fund - ext. cost $200,000. - arena will provide shelter for our riders during inclement weather, including extreme cold, hot, and windy weather. Cost of indoor arena, grading, road, parking lot, and other safety features. Grants and fundraising will occur for this category in the future. INDOOR ARENA FUND LINK

General Donations - In any amount or of any kind (aka - horses, items off of wish list, equipment, etc.) - all donations are tax deductible. Donations will be applied to program continuance. Donations of funds, horses, equipment, services and time are needed and are always greatly appreciated.

Horse Donations - What we are looking for ideally. Sound, healthy, middle aged (younger if exceptional horse), preferably a ring trained/show experienced horse that does not mind the arena and willing to work, with no bad tricks, calm and steady.

No lame horses! (Lame horses interfere with the purpose of therapeutic riding, which is to simulate the human gait - also horses must be sound to perform all gaits)
We are not looking for any horses at this time.

We are an official 501 (c) (3) non-profit corporation!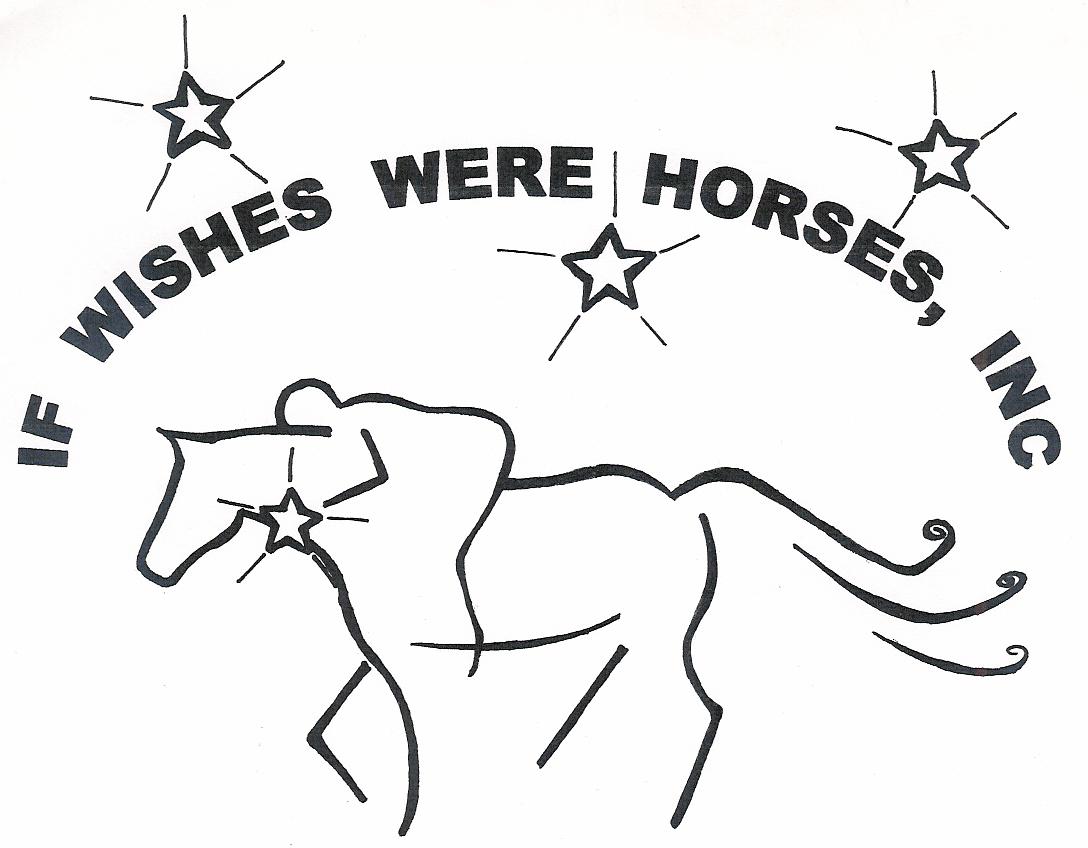 ****We reserve the right to refuse service to anyone, for any reason. FEC, LLC